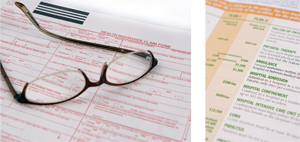 Third Party Medical Bill Audit
Definition: A review of medical bills with appropriate reduction to state fee schedule or reasonable and necessary rate, culminating in a comprehensive report. The review is provided by a registered nurse discerning medical appropriateness, level of service and coding protocols.
Features:
Ø Comprehensive review by a nurse with coding certification
Ø Time-line of treatment
Ø Utilization recommendations
Ø Pricing recommendations
Ø Containment recommendations are documented where appropriate and requested
Ø All bill types reviewed
Ø Clear table of recommendations; not a confusing "Explanation of Benefits"
Ø Negotiation services available
Ø Customizable service and reporting
Benefits:
Ø Prevents payment of fraudulent claims
Ø Delineates rationale for cost control of medical expenses
Ø Identifies duplicative service charges
Ø Produces documentation for appropriate reductions
Ø Determines whether or not services are provided by appropriately licensed individuals
Ø Assures treatment is medically necessary based upon evidenced based treatment protocol
Ø Control of medical expense and service use
Cost: Hourly charges regardless of amount saved versus the 20 to thirty percent of savings charged by most bill review companies. Charges are mutually agreed upon.